A month ago today, June 11th, a great authority on Jewish music, died.  His name was Velvel Pasternak and among other things, he founded Tara Publications which provided numerous manuscripts of Jewish music, the music of my people.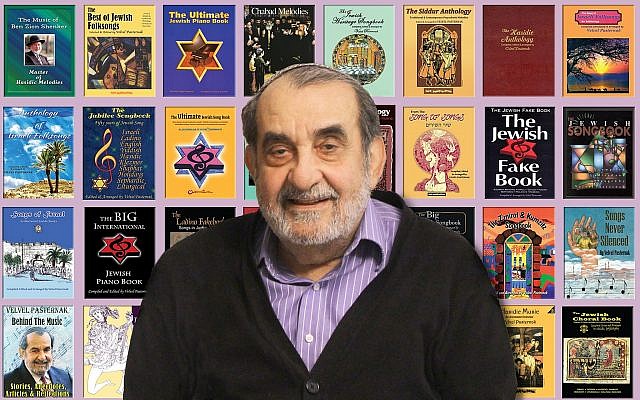 When I began to record my first pieces of music under the name RebbeSoul, I only had a nodding acquaintance with Jewish music.  The music I knew as such consisted merely of tunes I heard in synagogue and in Hebrew school on the rare occasions that I actually attended, usually at the painful insistence of my parents dragging me in by my ear.
 
So I recorded "Avinu" (Avinu Malkienu, אבנו מלכנו) and "Bim Bam," songs which made it on my first RebbeSoul album entitled Rebbe/RebbeSoul.  This soon led to a record deal with world music label, Global Pacific Records and my next album.  Because of my new fascination with my newly discovered, traditional music - the music of the Jewish people, the album was to comprise entirely Jewish music and henceforth its title, Fringe Of Blue, pertaining to the tzitzit worn from an important quote in a biblical passage.
 
Because I was now their signed artist, the record company wisely introduced me to Velvel Pasternak.  I remember our first phone call.  Velvel in New York and I, in California speaking about Jewish music.  I knew nothing about it.  He knew everything about it.  He became a fountain of knowledge, exposing me to material I never even knew existed.  There was a wealth of it as I was soon to find out because several days after that first conversation, a package arrived in the mail of several of his books of Jewish music and with his compliments.
 
It was a tremendous and meaningful gift.  Soon, I went on to purchase even more from his vast catalogue and then had manuscripts which included music from Morocco, Spain, Lubavitch, even Calcutta.
Nowadays, it's a simple matter to search for even obscure music online and be able to actually listen to it instantly.  Not back then.  All I can say is I'm so glad I did not have that option.  Had I heard those songs the way they are so often played, I probably would have just shrugged and never bothered to record them.  But I didn't hear them, however, thanks to Velvel's foresight, I had them on paper.  With great curiosity, I opened the books and started playing.  I was true to the notes but instinctively put my own mojo on them.  I made them my own.  This to me, was the real beginning of the sound of RebbeSoul.  In these traditional melodies, there were treasures just waiting to be heard.
"
Kol Dodi
" and "
Et Dodim Kalah
," two songs of
Shir Hashirim
,
The Song Of Songs
, started this way.  I never heard a note until I played it myself and thank the good Lord for that. 
Velvel Pasternak was largely responsible for helping me find my way and by providing me with some of the necessary tools, became a co-conspirator in creating what Reb Shlomo Carlebach called "the future of Jewish music."  I am eternally grateful to him for that.  Many thanks, Mr. Pasternak.  Todah rabah.
Here
is an entertaining and informative interview with Velevel Pasternak, conducted in 2016.
If there is sufficient interest, I'll write more blogs.  So please comment and sign up. 
There are many stories to tell!